At Gray Dental Group, we pride ourselves on providing top-of-the-line general dentistry services for people of all ages.
Our experienced general dentist in Edmond, Oklahoma, Dr. Philip M. Gray, and his team treat everyone like family so everyone can feel comfortable throughout their visit. We offer various services to cover anything from routine cleanings and cavity fillings to wisdom teeth removal and dental implants. No matter your needs, our friendly staff will be there to provide personalized care and guidance throughout the process. 
Please schedule an appointment today and let us help you get the healthy teeth and stunning smile you desire!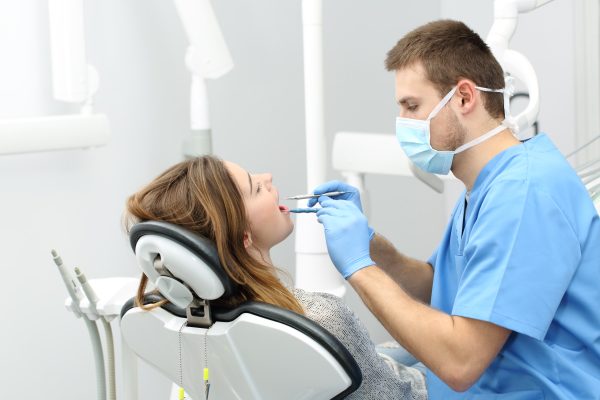 The Importance of General Dentist Visits
Good general dental health is essential to maintaining overall wellness. Regularly visiting a general dentist like Dr. Gray can help detect and prevent issues like cavities, gum disease, and other oral health problems. Regular general dentistry visits also allow us to assess your teeth for signs of decay or wear and address bad habits like grinding or clenching. Routine general dentistry checkups can also help keep your smile looking its best, while general, restorative treatments like fillings and crowns can help protect your teeth from further damage.
Our General Dental Treatments in Edmond, OK
At Gray Dental Group in Edmond, our general dentistry services include the following:
Preventive Care

– Preventive care is a great way to preserve your teeth and ensure they stay healthy. Take the time to come in for your routine cleaning, exam, and dental sealants. Every six months, these visits are beneficial for catching early cavities and checking the health of your teeth and gums. The hygienists can clean hard-to-reach places that regular brushing won't get. And sealants protect you from cavities by forming a shield over molars and premolars as a barrier between food and bacteria. So don't postpone preventive care – take the time to invest in the health of your teeth today!

Restorative Treatments

– We offer a variety of general, restorative treatments, including tooth-colored fillings for cavities, crowns for severely damaged teeth, and bridges to replace missing teeth. We also offer services such as root canals, extractions, and dental implants to help restore your mouth to its natural state.

Cosmetic Services

– We offer various cosmetic services, such as teeth whitening, veneers, and even Botox. Our experienced team is here to help you from start to finish in making a decision that will have you feeling confident and looking more radiant than ever! We'll work with you and provide personalized solutions ensuring your needs are met easily and comfortably. Nobody knows your teeth better than us, so we're here to help maximize your natural beauty. Let us help you show off that dazzling smile today!
No matter what general dentistry service you need, our experienced general dentist and team can help.
Preventive Care Tips for General Oral Health Maintenance
Good general oral health begins at home with preventive Care. To protect your general dental health, we recommend the following:
Brushing twice a day for two minutes each session

Flossing at least once a day

Eating a balanced diet and limiting sugary snacks and drinks

Avoiding smoking and using other tobacco products

Wearing a mouthguard while playing contact sports