Three Important Benefits of Having a Family Dentist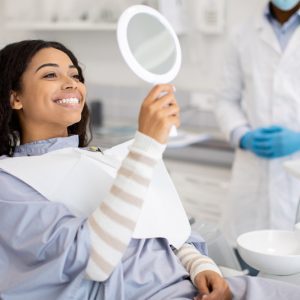 Are you looking for a family dentist you can trust with your smile in Edmond, Oklahoma? Dr. Gray at Gray Dental Group is dedicated to providing comprehensive, comfortable, and affordable care. Gray Dental Group strives to make every visit pleasant in our stress-free environment. Our cutting-edge technology makes visits faster and easier and offers the best possible solutions for all kinds of dental problems. Plus, we have a friendly staff that is always ready to answer any questions about your oral health!
Contact us today if you're looking for an experienced team of professionals who will take good care of your entire family!
Benefits of Family Dentistry
With years of experience, our team has the knowledge and expertise to provide the highest quality treatment available today. We offer everything your family needs under one roof. We provide comprehensive services for all ages!
Taking care of your family's dental health is essential, and having the same family dentist can help. When you have a family dentist, they get to know you and your dental history, can provide personalized treatment plans for you and your family members, and can also help provide preventive measures to avoid dental issues in the future. Let's look at three crucial benefits of family dentistry.
1. Personalized Treatment
When you have a family dentist who knows you and your children, they can provide more personalized care. This means that each family member will receive individualized treatment plans to meet their specific needs.
It also makes it easier for our team to keep track of changes in your oral health over time and any potential risks or conditions that need monitoring. In addition, consistently bringing your family to us means it's easier to identify any developing problems before they become more serious.
2. Preventive Care
It's much easier to prevent problems from occurring than it is to fix them after they happen. Dr. Gray will be able to provide regular checkups and cleanings so that any potential issues are spotted quickly and dealt with effectively. He can also offer advice on maintaining good oral hygiene habits at home and while away from the office. These preventive measures can save you money by reducing or eliminating the need for more expensive treatments such as fillings or root canals.
3. Comprehensive Services
At Gray Dental Group, we offer comprehensive services for all ages! Not only do we provide routine cleanings and checkups, but we also offer orthodontic treatments such as clear braces. Our services include the following:
Cosmetic Dentistry: Your smile is one of the first things people notice, so why not invest in your appearance and enhance your confidence? You can have dazzling, white teeth that are functional and feel great. We offer several popular, affordable, fast cosmetic care services, including teeth whitening, veneers, and dental bonding.
Restorative Dentistry: If you have any cavities or have lost some teeth, we offer a range of restorative treatments to get your mouth back into good condition. We offer fillings, crowns, bridges, and dentures to help you maintain excellent oral health.
Emergency Care: We understand that emergencies can happen anytime and are here to provide fast relief. We know how to bring you back to optimal dental health quickly. 
And more: The list goes on! We strive to ensure our patients are cared for no matter what type of service is needed—all under one roof!
Family Dentist in Edmond, Ok
Having a family dentist who knows you and your oral health history is invaluable for providing personalized treatment plans tailored specifically to each member of your household—and Gray Dental Group delivers just that! Our comprehensive services at one convenient location make caring for your whole family's dental needs easy!
Schedule an appointment with us now and see why so many people love their results from Gray Dental Group!