10 Dazzling Benefits of Teeth Whitening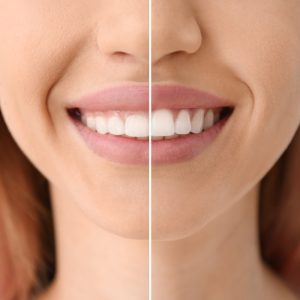 Twinkle, twinkle, little star, what excellent teeth those are! Thanks to medical and dental science advancements, teeth whitening has never been more accessible. Our affordable treatments guarantee a smile with an immediate shine and long-lasting results. Whether you're looking to awe your friends or look good for your wedding photos, teeth whitening offers peace of mind for everyone. At Philip M. Gray DDS, we provide outstanding teeth whitening in Edmond, OK. 
Teeth whitening is for everyone looking to take their health and physical appearance to the next level. Here are ten dazzling benefits of teeth whitening to show you why:
Enduring Results. Teeth whitening is a long-lasting, durable treatment that can last decades with proper care. You can easily extend its lifeline with healthy habits such as brushing, flossing, and regular dental checkups. 
Enhanced Oral Health. Professional teeth whitening removes stains, strengthens the teeth, and protects against cavities. Besides, brushing your teeth is much more rewarding when you have a pearly-white smile to maintain!
100% Safe. Teeth whitening is a foolproof method to enhance your smile's glamor and health. Because our treatments are non-invasive, teeth whitening is one of the safest, most beneficial dental treatments available. Our team will use state-of-the-art technology to ensure your teeth are whitened professionally, safely, and comfortably. 
White Smiles are on the Fast Lane. If time is money, then teeth whitening has never been more affordable! Unlike other dental procedures, teeth whitening is a fast and effective treatment with immediate results. You can expect a noticeable transformation within an hour. 
Boost Mental Health. Your smile is constantly on display- both for yourself and others. Choose to wake up each morning to a smile worth smiling about! You may find yourself grinning ear-to-ear more often than before. It's easier to share a bright smile, after all. 
Bright smile = Bright Future. Studies have repeatedly shown that people find those with white teeth to be more attractive, intelligent, and professional. A clean, confident smile goes a long way in interviews and meetings. Stand out in seminars and other business settings with a smile worthy of your character. 
Affordable and High-Quality. Thanks to modern dentistry, teeth whitening has become affordable without lacking any of its previous quality. Due to its impervious results, a white smile can last for decades. An excellent investment! 
Teeth Whitening is Personal. There's no copy-and-paste situation here. At Philip M. Gray DDS, everyone is the hero of their journey. We'll go over your dental history and take the best course of action every time. Your results will be maximized and enhanced according to your individual needs. 
Super Self-Esteem Boost. A brighter smile means a brighter you! It's easy to get lost in personal appearance, and with our teeth whitening, you'll want to. Give yourself a smile that best represents your inner beauty. 
More Attractive. Everyone finds a white, healthy smile to be attractive. Whether you're looking to date, marry, or make a good impression on your friends, a white smile will surely help. Go above and beyond for your physical appearance, and give yourself an edge. 
Teeth Whitening in Edmond, Oklahoma
With so many benefits to teeth whitening, what's not to love? We offer fast and effective treatments that can positively impact your life for decades to come. Dr. Philip M. Gray and our professional team are exceptional individuals who have your best interests at heart. They have the skills and tools necessary to give you a smile to be proud of for years to come. 
It's not always possible to have a white winter, but it's always possible to have a white smile! Schedule an appointment today.