Botox Dental Treatment for Bruxism in Edmon, OK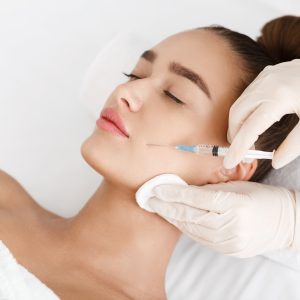 Are you looking for a new dentist? At Philip M. Gray DDS, we offer quality dental services for everyone in the family. We are your one-stop shop for all your dental needs, including general dentistry, cosmetic services, and more. Plus, we offer many convenient services you won't find at your average dental office, including botox treatments in Edmond.
If you are suffering from Bruxism or a similar dental condition, Botox dental treatment may be right for you! Please schedule an appointment with us today!
Dental Botox in Edmond, Oklahoma
You may have heard of Botox being used for cosmetic purposes. Botox is commonly known for its cosmetic uses, such as reducing wrinkles. However, we can also use it to treat TMJ, Bruxism, and gummy smiles.
Bruxism is the medical term for teeth grinding. While it is often considered a harmless habit, Bruxism can cause several problems. Over time, teeth grinding can damage the enamel of the teeth and lead to tooth decay. It can also cause headaches, jaw pain, and earache. In severe cases, it can even lead to TMJ disorders.
If you think you may be grinding your teeth, it's essential to see our team. We can diagnose the problem and recommend treatment options, such as Botox injections.
How Does Botox Work?
Botox treatment can help to reduce the symptoms of Bruxism. The procedure involves injecting small amounts of Botox into the muscles of the face. Botox temporarily paralyzes the muscles in the treated area, relaxing them and helping to prevent them from clenching or grinding. This can reduce the pain and discomfort associated with Bruxism. The treatment results are not permanent but can last several months.
In most cases, Botox must be repeated every few months to maintain its effects. However, many people find that it significantly improves their quality of life. If you are suffering from Bruxism, talk to us about whether Botox might be right for you.
Is Botox Safe?
Yes! Botox dental treatments are becoming increasingly popular as they offer a quick and safe way to relieve dental issues. Botox is FDA-approved and has been safely used for over 30 years. When administered by a trained professional like Dr. Gray, there is no risk of severe side effects. As with any medical procedure, there are some risks and side effects associated with Botox treatments. The most common side effect is temporary bruising or swelling at the injection site. However, these side effects are typically short-lived and resolve within a few days. Overall, Botox dental treatments are safe and effective for most patients.
What to Expect During Treatment
Dr. Gray will assess your condition during your appointment and develop a treatment plan tailored to your needs. He will then administer the Botox injections into the selected muscles. The entire process takes less than 30 minutes, and you can return to your normal activities immediately afterward.
Edmond Botox
Philip M. Gray DDS offers Botox treatment in Edmond, Oklahoma. Botox works by temporarily paralyzing the muscles in the treated area, providing relief from pain and discomfort. The results of treatment are not permanent but can last for several months.
Finding a new dentist can be challenging, but we go out of our way to ensure our patients are comfortable and relaxed during their visit with us. You can rest assured knowing that you're in good hands when you come to see us. Schedule a consultation with Dr. Gray today to see if dental Botox is right for you!
We look forward to meeting you and showing you how we can relieve dental discomfort and bring back your smile.