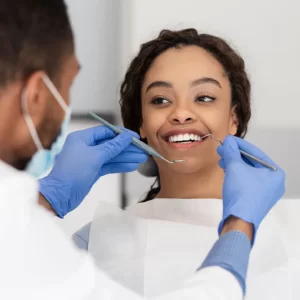 Are you looking for a new dentist in Edmond, Oklahoma? Philip M. Gray DDS will treat you like family. He understands that everyone is different and takes the time to listen to your concerns and address them. You won't find a more qualified or friendly dentist in the area.
Philip M. Gray DDS offers a comprehensive line of dental services such as teeth cleanings, dental exams, and X-rays. We also provide cosmetic dentistry services, such as teeth whitening, veneers, and bonding.
Finding the Right Dentist for You in Edmond, Oklahoma
When choosing a dentist, you must find one you feel comfortable going to for all your dental needs. You should also make sure that the dentist is qualified and experienced. Dr. Gray is a member of many professional organizations, including the Oklahoma Dental Association, the American Dental Association, and the Academy of General Dentists. He is dedicated to providing his patients with high-quality, individualized care.
Before making an appointment with a dentist, you should ask them questions to ensure they are the right fit for you. Here are some questions to ask:
What are your qualifications?
How long have you been practicing?
What is your approach to dental care?
What services do you offer?
Do you accept my insurance?
What are your payment options?
What are your office hours?
Do you have any promotions or discounts?
Our services include:
Restorative Dentistry
Emergency Dentistry
Wisdom Teeth Removal
Clear Braces
And More!
Dental Insurance and How it Works
If you have dental insurance, it will usually cover some of the cost of your dental care in Edmond. Most insurance plans will cover preventive care, such as teeth cleanings and dental exams, at 100%. Basic procedures, such as fillings and X-rays, are usually covered at 80%. Major procedures, such as crowns and bridges, typically cover 50%.
To determine if your insurance plan covers a specific procedure, contact your insurance company or ask our front office staff.
If you don't have dental insurance, you can still get the dental care you need. Philip M. Gray DDS offers a variety of payment options to make dental care affordable for everyone in Edmond.
What to Expect at Your First Edmond Dentist Appointment
Your first dentist appointment at Philip M. Gray DDS is an opportunity to get to know your dentist and discuss your dental goals. Dr. Gray can perform a comprehensive exam of your teeth, gums, and mouth, looking for any signs of disease or cavities. He may also take X-rays to better look at your teeth and jawbone. If you have any questions or concerns, this is the time to ask them. Dr. Gray will develop a personalized treatment plan for you and answer any questions you have about your dental care.
Common Dental Problems and How to Solve Them 
Cavities are one of the most common dental problems, but they are also the easiest to prevent. Cavities occur when plaque buildup on your teeth leads to tooth decay. The best way to avoid cavities is to brush your teeth twice daily, floss daily, and see your dentist for regular checkups and cleanings. If you get a cavity, we can treat it with a filling at our Edmond dental facility.
Gum disease is another common dental problem. It occurs when plaque buildup on your teeth leads to inflammation of the gums. You can also prevent gum disease by practicing good oral hygiene. If you have gum disease, Dr. Gray may recommend a deep dental cleaning or other treatment options in Edmond.
The Best Dentist in Edmond, OK
Dr. Gray offers all the dental services you need under one roof in Edmond, OK. From preventative dentistry to cosmetic procedures, we have you covered. We offer a wide range of general and cosmetic dentistry services. We also offer convenient financing options to make dental care affordable for everyone.