Can root canals cause root damage?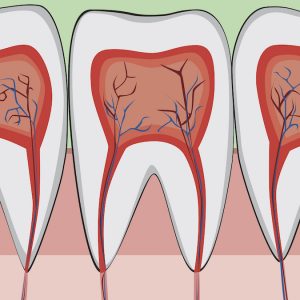 Root canals are a straightforward procedure designed to remove bacteria from an infected root canal, relieve dental pain, and save the natural tooth. They are very common, but like any dental procedure, they can cause damage if not done properly.
Procedure
Root canals are a quick, common procedure. Inside each tooth, there is a soft tissue called pulp, which contains nerves, blood vessels, and connective tissue. During the root canal procedure, the pulp that is infected is removed. The pulp chamber and root canal gets cleaned out and refilled to protect the area from any further damage.
Potential complications
Occasionally, there can be a complication after a root canal is performed, but it only happens if the procedure isn't done correctly. If a root canal filling is overextended or over prepared, there can be damage to the nerve in the lower jaw.
While nerve damage is possible, it's more likely you will have a successful procedure, especially if the tooth is properly taken care of. If you are worried that you may have an infection or nerve damage, here are a few warning signs to look for:
Ongoing pain or burning
Numbness or lack of feeling in the jaw, cheeks, tongue, or gums
A tingling or pulling sensation
Loss of taste
Swelling
With the technology we use at our office, including Cone Beam CT scans and electronic apex locators, this greatly reduces the risk of any nerve damage.
A vast majority of potential damages are temporary and can get better as long as it is treated, but it's best to have it done correctly the first time around, with the right supplies, knowledge, and technology. Dental pain can be detrimental. If you're experiencing any negative effects, be sure to visit your dentist as soon as possible to prevent further issues.