How are dental crowns made?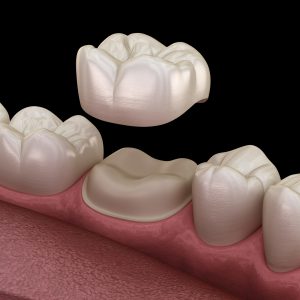 Dental crowns are essentially a "cap" that is customized to cover a patient's tooth. The procedure helps restore a tooth's shape and size, increase strength, and improve performance. There are two different types of crowns you can get, depending on the patient's situation: temporary or permanent.
Our process
At our practice, we make the majority of the crowns in our office. We use a CAD/CAM system called CEREC that allows us to scan your teeth with a 3D scanner. Then, we use a software to design your new tooth—no more messy impressions or a mouth full of gooey material.
After designing your new tooth, we mill the dental crown out of a block of porcelain. Porcelain is very durable and gives the most natural look. The process only takes a little over an hour to complete.
Temporary crowns
Typically, temporary crowns only last for a few weeks, and their purpose is to protect a tooth from damage until a permanent crown can be made and put into place. Temporary crowns are made from more delicate materials like acrylic or stainless steel. Because of their delicacy, they should be properly cared for.
Permanent crowns
Permanent crowns are made with much stronger material and meant to last for many years. The better they are cared for, the longer they will last. They are made from durable materials, such as ceramic, resin, or porcelain; some are infused with metal if additional support is needed.
Dental crowns are a great solution to multiple dental problems. They give support to a damaged tooth, and they protect your tooth from being damaged any further. Be sure to take proper care of them so they can last even longer.