Can dental crowns be whitened?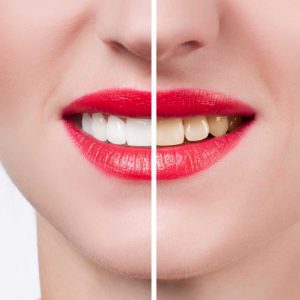 Dental crowns are among the most common dental implants out there. They're used for everything from root canals to shoring up weak teeth, creating an outer layer that replaces the tooth's natural enamel shell with a tough synthetic surface.
But for those who want to get their teeth whitened, it can bring up an interesting question: can these crowns be whitened the same way as a regular tooth?
The anatomy of a crown
Dental crowns are simply porcelain that's cemented into place over top of an existing tooth. There may be a decent amount of tooth left underneath, as in the case of a weak tooth that's being protected. Or it may be a case of a tooth being worn down and needing something to cover the part that remains.
Porcelain crowns are the main type that's used because they have the best color matching capabilities of any crown on the market. There are also other options that are used in some cases like resin or acrylic, especially for temporary crowns. In our office we focus on porcelain for the color match.
Crowns are tough, durable and mostly nonporous. But they do pick up stains from the things that you eat and drink. Wine, coffee, tea nicotine and other substances that stain regular teeth will also stain crowns.
Over time the crown may wear down and become more susceptible to stains. Crowns usually last from five to fifteen years, and if yours is wearing down it may be time to get a replacement. We can help with that if it needs to be done.
Staining isn't usually a problem for anything more than cosmetics, but there are solutions to the problem if it presents itself.
Fixing crown stains
When you get a regular tooth cleaning you can also get your crowns cleaned via the same process. There are toothpastes that can be purchased to do this cleaning as well, but if used for too long they can actually cause problems themselves. Having a professional do the cleaning as well as check to make sure the crown is still in good working order is the better option.
Crowns can stain. But they can also be cleaned. If you need any dental work done on your crowns, come visit our dentistry and see what makes us different. We'll help you keep your smile white.