Visiting the dentist while pregnant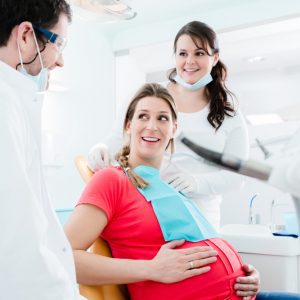 Being pregnant is a normal part of life, and there's no reason why someone should shy away from keeping regular dentist appointments while pregnant.
In fact, coming in for your regular cleaning and exam during pregnancy is beneficial, because hormonal changes during pregnancy can affect your oral health. Hormones can cause your gums to bleed and be inflamed more than if you're not pregnant, so it's important to remove all of the bacterial plaque in your mouth during pregnancy.
There's some research that shows that bacteria can be transferred from mother to newborn and that bacteria stays with the child throughout their life. That includes the type of bacteria that causes gum disease and cavities, so you want that bacteria to be removed as much as possible prior to having the baby.
When treating patients who are pregnant, we will only do treatment that is absolutely necessary. If a patient has a small cavity or some other small issue, that can usually wait until after the pregnancy. But if a patient is in pain and we think it's going to get worse, we will go ahead and treat the issue. We do change the type of anesthetic we use to one that has been approved for use during pregnancy. It's perfectly safe to have dental treatment done while pregnant, but if it's something that can wait until after the baby is born, I usually choose to wait.
We don't take x-rays when patients are pregnant unless it's an emergency situation with severe tooth pain where an x-ray is required to diagnose the problem. Even in that case though, we would use a lead apron to cover them, and the amount of radiation is negligible.
When it comes to the standard cleaning, everything remains the same. For those adult patients who are prone to tooth decay, we use fluoride during the cleaning, and we continue to use that on our pregnant patients who need it as well.
As mothers get farther along in their pregnancies, they may be uncomfortable in the dental office chair. There are some techniques we can do with pillows and blankets to make them more comfortable. We also have some methods we can use so patients can lay on their side rather than their back while getting their teeth cleaned.
Maintaining good oral health is important for your health and the health of your baby throughout pregnancy, and regular visits to the dentist are an important part of oral health.