Edmond Dentist: The Dangers of Sugar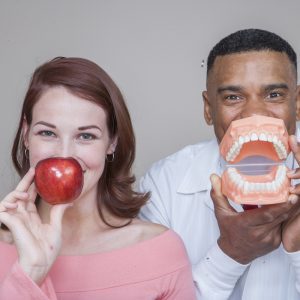 Edmond Dentist: Keeping your Oral Health in top form
Think back to when you were a kid, did your parents ever tell you too much sugar will rot your teeth? Now, saying this may have helped avoid stomach aches and weight gain, it isn't necessarily true. It's true sugar is the main cause of tooth decay, maintaining oral health doesn't require you to completely cut out sugar. Taking good care of your oral health and seeing you dentist regularly will help you avoid cavities and tooth decay even when your diet is high in sugar. The Edmond Dentist also has some things to look out for.
Sugar and Tooth Decay
Teeth decay occurs when sugar in the foods we eat mix with bacteria in your mouth and creates an acid that eats away at your teeth's enamel. Once your enamel deteriorates it's easy for the bacteria to cause further damage such as cavities and tooth loss. This tooth loss can become even more prevalent when a high sugar diet is mixed with poor dental hygiene, as people with poor dental hygiene lack the protection that brushing and flossing regularly give.
Prevention
Cutting down on sugar can be a scary thought. It's nearly impossible to cut sugar out of a diet completely. Sugar is found in many healthy food products like bread, fruit, and milk in addition to the not-so-healthy options like soda, cookies and candy. However, you can mitigate the effects of sugar by getting it out of your mouth quickly. The less time sugar spends in your mouth, the less time it has to mix with bacteria and form acid that can damage your teeth.
High Sugar drinks like juice and soda are the most harmful because the liquid tends to sit in your mouth longer than a bit of cookie. The same can be said for candy, crunchy candy that you can chew and swallow quickly is better than a lollipop or jawbreaker that needs to sit in your mouth. Drinking water after consuming sugary foods can also help rinse away the sugar in your mouth.
You can also help fight tooth decay by brushing with fluoride toothpaste. Fluoride creates a layer over your teeth that makes them resistant to the acid that sugar and bacteria create. If you have a history of cavities, your dentist may add more fluoride to your dental routine to help further protect your teeth.
Maintain Dental Visits
While good oral habits and a good diet are the main ways you can keep your teeth healthy, it's also vital to see your dentist regularly. Dentist will clear away decay causing bacteria that hides in your mouth and can spot the early signs of a cavity, helping you take steps to avoid further issues. If you live in the Edmond, Oklahoma area and have questions or want to schedule an appointment give The Edmond dentist a call today!