Dentist Edmond: Come Visit Us At Our New Location!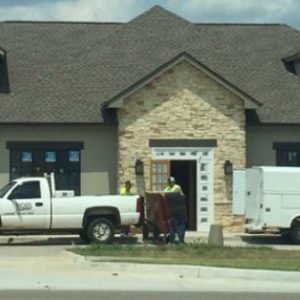 Dentist Edmond: We Have Officially Moved!
Dr. Gray and his team have been so excited about the development of our new office building which began late 2016 and it has finally been completed. Each month we watched in anticipation as progress was made and with each passing month we got a little happier. Here's a bit of a review of the progress that was made from the start to the completion of the project:
The construction to clear the land began the first week of November, 2016
We broke ground the second week of November, 2016
The concrete slab was poured in January, 2017
The parking lot was done by February, 2017
The exterior framework was up by March, 2017
The outside and the inside started coming together by June, 2017
The interior walls were being closed up by July, 2017
We were ready to move in at the end of August, 2017
It may seem like it has taken a long time, but in reality it has gone rather quickly and, honestly, we couldn't be more thrilled about how it has all turned out.
Dr. Gray and the team have had the craziest last few weeks trying to pack and get the new place ready for all of our patients! Moving to this new office is such a transition for us, but we are delighted to have expanded and put in upgrades which will help us serve our patients even better. Whether you're a new patient or an old one, if you're looking for us in Edmond, never fear! We haven't left you, we're just in a new spot and we're just about ready to start this new chapter.
If you've followed our dentist in Edmond, then you may already know all of this, but just in case you need it our new address is:
1617 E. Danforth Road
Edmond, OK 73034
Our projected opening date at the new place is on September 11th, 2017 and we hope to see your smiling faces there! To make an appointment with our dentist in Edmond, please feel free to give Dr. Gray's team a call at 405-330-5458!