Dentist Edmond: Providing Warning Signs Of Gingivitis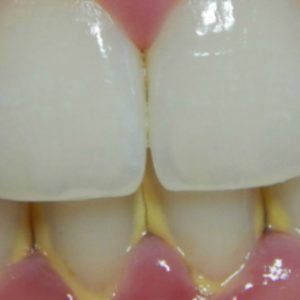 Dentist Edmond: What Is Gingivitis?
Gingivitis is one of those dental terms that patients have heard used a lot, but do you really know what it is? Could you recognize the symptoms if you had it? Our dentist in Edmond is often surprised what so many patients are confused when they're told they have this gum disease. That's why, today, we're going to share a little bit about why you might have this problem and what you'd expect to see if you have this common gum disease.
The most common reason some patients come to our dentist in Edmond with gingivitis is simply due to poor oral hygiene. This can be due to many risk factors which include:
Smoking or chewing tobacco
Older age
Dry mouth
Poor nutrition, including vitamin C deficiency
Poor brushing and/or flossing habits
Dental restorations that don't fit properly
Crooked teeth that are difficult to clean
Immune system decrease from conditions such as leukemia, HIV/AIDS or cancer treatment
Certain drugs, such as phenytoin (Dilantin, Phenytek) for epileptic seizures, and some calcium channel blockers, used for angina, high blood pressure and other conditions
Hormonal changes, such as those related to pregnancy, menstrual cycle or use of birth control pills
Genetics
Medical conditions such as certain viral and fungal infections
When you have this gum disease, our dentist in Edmond is able to notice it by the build-up of plaque and tartar on your teeth. Irritation of the gums is also a characteristic of gingivitis. The following list is comprised of a few other signs of gingivitis:
Swollen or puffy gums
Tender gums
Receding gums
Bad breath
Gums that bleed easily when you brush or floss
Dusky red or dark red gums
It's important to know that untreated gingivitis can progress to periodontitis which is gum disease under the tissue and bone. This is a much more serious condition that can lead to tooth loss. Thus, our dentist in Edmond would encourage you to keep an eye out for signs of gingivitis. In addition, we would suggest daily brushing, flossing, and regular dental work to maintain a healthy mouth.
If you'd like to make an appointment with our dentist in Edmond, we'd love to help you keep that smile bright and healthy! You may reach us at 405-330-5458.